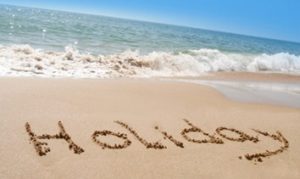 Starting your beauty regime before your holiday begins is an absolute MUST! It doesn't just begin on day one of your ibiza weekender or your two week trip to Thailand. IT BEGINS NOW!
In spite of having taken an afternoon off to get ready ahead of my holiday earlier this month, I found myself running, newly pedicured, in flip-flops, through a rainstorm as I hurried to my next appointment the other side of town. After hair and waxing appointments, I didn't have any time left. My unpainted nails and ungroomed brows joined me on the plane the next day with five of my far more organised friends. (People who, incidentally, do not work in beauty. For shame.)
One week before – get the chop
Three days to a week before your trip is the time to get your hair done. 'Hair colour is far better after one shampoo,' says Ellie Hunt, senior colourist at Daniel Galvin. 'I would always recommend a cut before you go because this will help get your hair in top condition. The amount of sun exposure and time spent in the pool or sea will determine whether you will need another on your return.
Moroccan Oil is a great save to keep that hair alive in the heat
Two days before – get a manicure…
'It's best to have a manicure a couple of days before your holiday as this will ensure it lasts for the duration,' says Gemma Pavey, training and education manager at Leighton Denny Expert Nails.
The day before – a little tan never hurt no one
San Tropez gradual tan, gradual? No. It works just a few hours after applied in just one use. Its truly amazing stuff. My advise would be to keep exfoliated weeks before your holiday so your tan can be easily applied and will last longer. Once your actually away the real tan can begin.