'ABOLISH YIK YAK'
…is just one of the many Facebook pages exposing Yik Yak's ABUSIVE, RACIST AND SEXIST NATURE.

 
Mean Girls, (2004)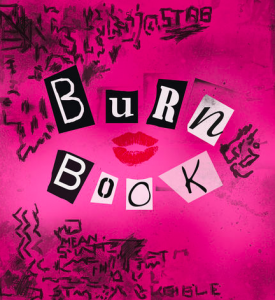 So, what is this saying about social media?
The growth in Yik Yak over the last year has made the app into an global phenoneom amongst student campuses. Us students can upvote or downvote Yak's, so, just like Twitter but instead all done anonymously.
We have the freedom to write whatever we want without feeling in anyway guilty about it!
Brilliant…right? I'm not too sure.
Yik Yak is starting to alarm me as something that is increasingly  growing globally, despite its huge potential for bullying, sexism and racism. The more I look into Yik Yak and its student culture, the more I get frustrated with it…
HARMLESS OR HARASSMENT? I THINK HARASSMENT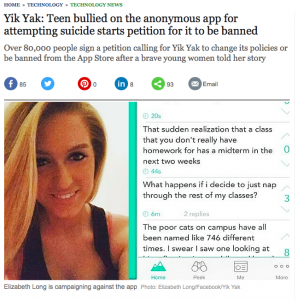 Yik yak: teen "Bullied" and starts a petition
Elizabeth Long from Atlanta has won over 82,551 supporters in her petition to 'Abolish Yik Yak', still needing over 60,000 people to join the petition. This just shows the strong hatred people are starting to feel for the app, and with 82,551 supporters backing the petition so far, I would say Yik Yak WATCH OUT!
What is Yik Yak doing to our generation?
Do you know what its starting to remind me of? Mean Girls.
Everyone knows Mean Girls!  (I have to admit I have watched it well over several times). The 2004 film hit our screens with its humorous one liners that we still use today "YOU CAN"T SIT WITH US!". And yes, as funny as it is, it also actually shows the divisions between our student social groups at college/university. You've got the Nerds, Goths, Freaks, Plastics, Jocks, you name it, Mean Girls covers it all! These groups formed at school is what, I believe,  Yik Yak is making normal amongst us students.
The constant name dropping and rudeness is just the start of what I have witnessed on Yik Yak recently. We associate social as something nice and Yik Yak is starting to blur my definition of 'social networking'.  Social networking is supposed to be celebrated, people that want to voice an opinion, and share stories. Yik Yak may do this, but to me its starting to look like a poor excuse to give people the opportunity to show off and be rude without a name attached.
As a university student myself, I'm not one to take things too seriously. When it comes to students having a bit of banter and messing around, I get that. But then… I look at Yik Yak. Its becoming an international phenomenon amongst the student campus and I ask myself, why? I say student culture is becoming obsessive. We want to know what everyone is talking about and we certainly don't want to miss out. It is becoming an obsession amongst our generation to find out what everyone is doing, who's saying what about who, and sharing our similar outrages about university life or the amount of revision we have to do!
Social media is shaping our generation and is effecting us on a day-to-day basis. Social media has now taken a turn to support its dislike in Yik Yak.  Yik Yak is obviously becoming a problem in the social media world.  'Abolish YikYak' is just one of the many Facebook pages that expose all the nasty things manageable, with 81 people supporting this page by liking it. 'Yik Yak: Exposed' is another Facebook page exposing racist comments that were made in particular at the University of Syracuse.
These pages show the dislike people have towards Yik Yak, and I am starting to understand why.  Most of it is light-hearted but there is still a big element of it thats not, and I think this is all down to its anonymous USP (see my blog post on Yik Yak and its anonymous nature).